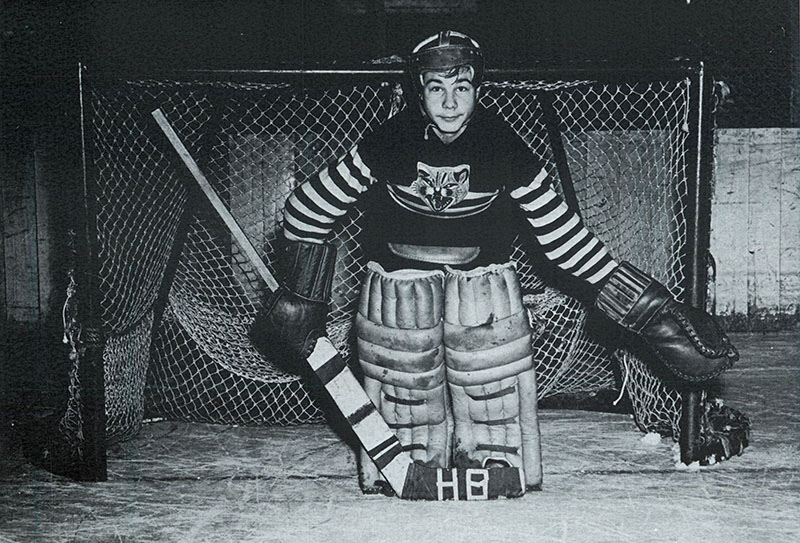 "The Best Goalie Ever"
Peabody High School Hall of Fame Journal
"Harry C. Batchelder Jr., is considered by many Tanner hockey fans as the best goalie to ever graduate from Peabody High School. In his junior year (1952), Harry was named the goaltender by Hall of Fame Coach Charlie Carlin and this was a key factor in the team's success. Harry posted ten shutouts as the Tanners skated undefeated through their twelve-game regular season schedule. At the end of both the 1952 and 1953 seasons, Harry received North Shore Hockey League First Team honors and the Waldman Trophy as the league's outstanding goalie. He was captain-elect for the 1953 season."
"I never had a better day than when I pulled on that blue and white Tanner jersey."
"Exceptional Bears"
Brown University Hall of Fame Biographies
"A truly unforgettable victory," somewhat like Batchelder himself.
"Harry C. Batchelder Jr. '58, was the kind of goalie you never
forget, the kind who gives you chills by playing outside the
crease, the kind who insures a team's big upset by making
58 saves.
"Indeed the last occurred early in his junior year when the
Bruins beat heavily favored Boston College, 6-3, in a game
that the Brown Daily Herald described as 'amazing and un-
believable!' The BDH pulled out all the stops with adjectives
describing Batch's play that night: 'phenomenal goaltend-
ing,' 'outstanding,' turning aside many 'labeled' shots.
"'The second period,' wrote the BDH reporter, 'found the
brilliant goaltending of Batchelder overshadowing all other
aspects of play. Due to his unbelievable saves, the Eagles
were held scoreless during that period.' It was a 'truly unfor-
gettable victory,' somewhat like Batchelder himself. In his
last collegiate game, Batchelder again faced Boston College,
this time on the Boston Arena ice. Brown, reported the Prov-
idence Journal, 'routed Boston College 10-4, bulwarked by
another spectacular performance by goalie Harry Batch-
elder who had 32 saves, raising his total for the year to an
amazing 802.'"
"After his graduation from Brown, Batchelder [was com-
missioned as a Second Lieutenant in the United States Air
Force] and served three years. But he managed to get time
off from duty to join the Brockton Mass. Hockey Club—the
U.S Amateur Hockey Association champions—on a five-
game tour of the Soviet Union. While the Americans lost all
five contests, in their last game against the Moscow Dynamo
team Batchelder turned in another of his clutch perform-
ances. 'With goalie Harry Batchelder playing brilliantly,
Brockton held the Dynamos scoreless until midway through
the second period,' reported the Providence Journal on November 23, 1959."
Harry C. Batchelder Jr. was named to the 1958-59 United States Men's National Ice Hockey Team, and the 1960 United States Olympic Team; pictured below, first row, left.