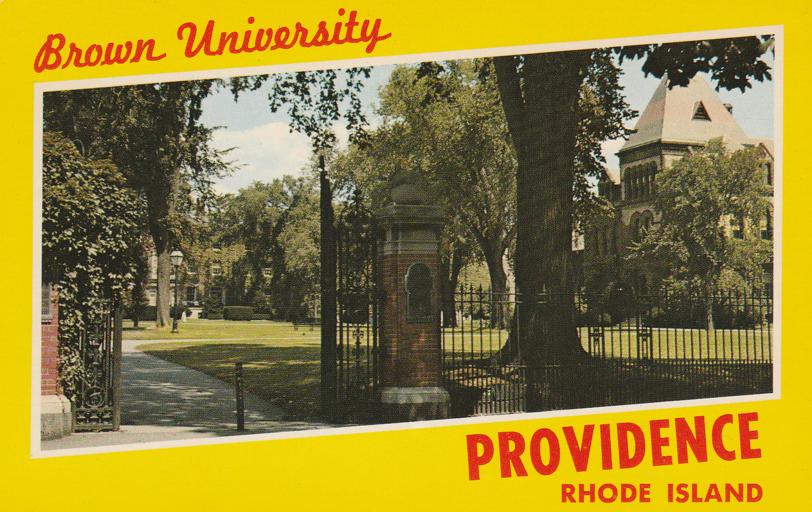 Classmate Profile – Harry C. Batchelder, Jr.
An Appreciation by Bill Corrigan '58
Over the past 60 years, Brown hockey has been blessed
with a staggering number of great goaltenders—Don Whis-
ton '51, Don McGinnis '70, Kevin McCabe '77, Mike Laycock
'79, Mark Holden '80, Chris Harvey '90, Geoff Finch '94, and
Yann Danis '04—but it would be foolhardy not to include our
classmate Harry Batchelder on this prestigious list.
Harry arrived at Brown as an outstanding goaltending pros-
pect from Peabody, Massachusetts, and joined the Bruins'
freshman team for practices at the Rhode Island Auditorium
on North Main Street. He played in the majority of Brown
varsity games as a sophomore and took over as the starting
goaltender in his junior year, which was highlighted by a
58-save performance when the Bruins beat heavily favored
Boston College, 6-3, during an early-season game played
at the Eagles' McHugh Forum.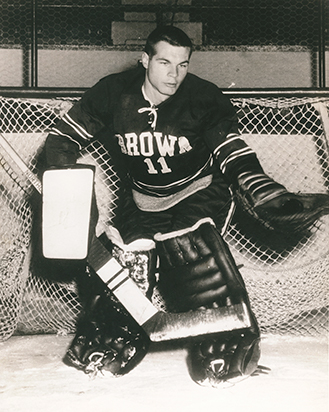 Such play did not go unrecognized. In 1957, Batch was
named All-New England and All-Ivy second team, Most
Valuable Player and Outstanding Player in the Boston Arena
Christmas Tournament, and first team All-East. In 1958, he
made the All-New England and All-Ivy first teams as well as
first team All-East again, and repeated his MVP and Out-
standing Player awards in the Boston Arena Christmas
Tournament. He also was named a first team all-star in the
1958 RPI Invitational Tournament.
After his graduation from Brown, Batch was selected for the
1958-59 U.S. National Team and appeared in three games.
He was inducted into the Brown University Athletic Hall of
Fame in 1983.
What Ever Happened to Harry Batchelder? A Lot!
By Jim Furlong
Bill Corrigan's piece inspired us to look in more detail at
what Harry did after he hung up his skates. When we dis-
covered in the Alumni Directory that Harry's email address
is Lubiyanka@aol.com, our first thought was that he did not
welcome mail and had posted a dummy address. That con-
ceivably would have fit. The entry by this former military
man in the 50th reunion yearbook is the civilian equivalent
of "name, rank, and serial number."
However, that speculation quickly proved all wrong. Harry
responded to our communication by providing a fascinating
account, laced with self-deprecating humor, of his post-grad-
uation education, military service, "tourism" in hotspots, and
legal career.
And Lubiyanka as his email address? A switch to that
name became necessary when his former email address,
Stasi, was lost in a computer crash, he explained. That
makes sense—if the name of the East German secret police
becomes unavailable, go for a notorious KGB prison. We
were relieved to get that cleared up and move on to the
compelling biography.
At Brown, he remembers, "I consider it my greatest achieve-
ment that I got to pick the cartoons shown during exam time.
'Magoo' and 'The Roadrunner' featured prominently in my
selections." But that, we interjected, surely was a sideline?
"I also got cum laude and second place in the Samuel Lam-
port Prize Competition in International Understanding," he conceded.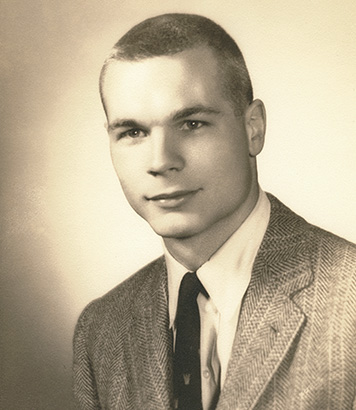 Harry's first job after graduation was as an Air Force special
operations officer in Southeast Asia. He received intense
training in the Philippines at the former Clark Air Force Base
and in Australia at the Australian Special Air Services
Course, where he was the first American to go through the
course since WWII. Harry spent the rest of his three-year
stint parachuting into Southeast Asia and doing ground
recon as a "tourist."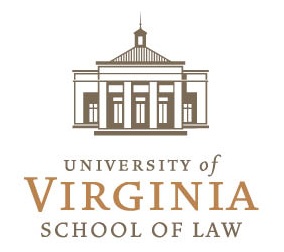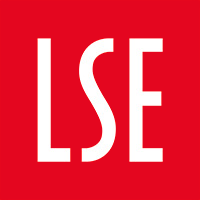 He moved on to the University of Virginia, where he earned
a law degree and won a scholarship to the London School of
Economics. As a recent veteran of Southeast Asia, he had a
"not uneventful time" among the predominantly leftist LSE
student body. He took an LL.M., a master of laws degree,
at LSE. His time abroad included study at Institut de Droit Comparé in Strasbourg, France, "where I finished first in the class," and the University of Coimbra in Portugal. He recalls with pleasure his spirited discussions in Portugal with a Marxist professor from Charles University in Prague, whom he enjoyed irritating by addressing as "Komissar." Harry was later to learn with astonishment that the professor had been exposed as a CIA asset.
Another Portuguese experience: "I fell in love with Portu-
guese fado [music], an affliction I bear willingly to this day."
"Upon my return, I joined Nixon (yes, that one), Mudge,
Rose, Guthrie, Alexander and Mitchell (yes, that one), where
I stayed for four years." Harry moved on in 1969 to become
an assistant director of the U.S. Justice Department's Drug
Abuse Law Enforcement Office until 1972. Thereafter, he
was a prosecutor in the Southern District of New York for
seven years. He left to "establish my firm, a gang of one, in
New York, where I still practice on a pro bono basis."
One important thing to remember about Harry is that for
much of his career, he operated on two tracks—civilian and
military. About a year and a half after returning from Europe,
he was approached by two apparent Wall Street types who
asked if he would be willing to brief air crews at McGuire
AFB in New Jersey. Despite some bitterness about U.S.
conduct of the Vietnam War, Harry took the assignment.
It led to a long and active association with Air Force Intelli-
gence, in which his early "tourism" expanded to "garden
spots" in Africa, the Middle East and Panama.
How did he manage to blend this with civilian life? Well, for
example, his boss at the Justice Department was amenable
to his taking off on numerous special USAF assignments.
Harry was a reserve officer but he notes that the Air Force,
under the leadership of Gen. Curtis LeMay, had long since
sharply elevated the status of reserves in order to hang on
to the talents of young officers departing for civilian life.
Harry retired from Air Force Intelligence only seven or eight
years ago as a thrice-decorated full colonel.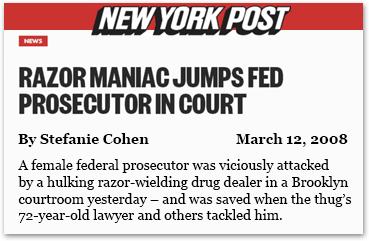 One of the photos of Harry that was passed to us bore the
file name "Terror." We asked about that.
"I did represent for a time Sheik Omar Abdul Rahman on
the first World Trade Center bombing, but the photo refers
to an incident when my client attempted to murder a female
prosecutor in the courtroom and I became involved in attempt-
ing to subdue him. It was of some note as a video went viral of
the judge fleeing the bench while the court reporter and I sub-
dued Victor Wright ... Wright was a member of Murder Inc.,
and he was right out of the TV series 'The Wire' as to the trans-
port of drugs from New York into the Baltimore area."
Harry says his legal career largely has involved violent crime
and has included cases that came before the U.S. Court of
Appeals and Supreme Court.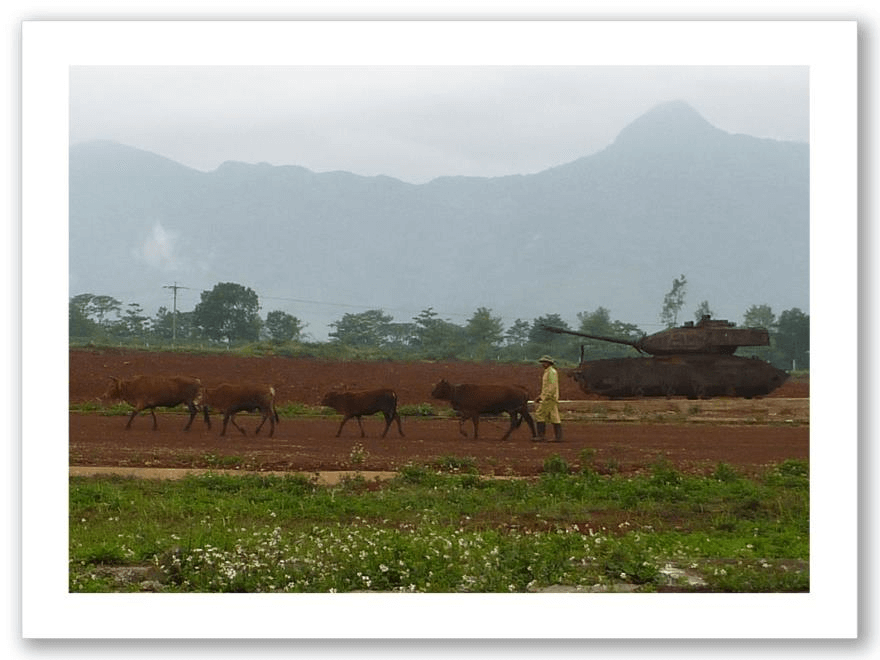 For further insight into his military career, Harry referred us to
www.OwlBrookFarm.com [now www.harrycbatchelderjr.com
"An American in Vietnam"] a website named after his late
father's New Hampshire dairy farm in Holderness and
Ashland, to read his moving 96-page monograph about his
160-mile solo walking and hitchhiking trip through Vietnam
two years ago. During the grueling and risky journey, he
reflects through the prism of his military experience both on
landscapes sharply altered by capitalism and on others left
undisturbed by time. Along the way, he talks long and earn-
estly with Vietnamese people over tea and Coke.
He's planning another trip. "Despite some recent medical
problems, I am going to try and walk solo from Hanoi to Dien
Bien Phu to Sapa over the Tran Ton Pass to Ha Giang, a
realm of mystical landscapes and unchanged territory.
About 500 miles carrying it all on my back, but we will just
have to see where it goes."
Nowadays, our former classmate is back and forth between
Manhattan and a residence in Sandwich, NH. "I try to go to
Sandwich as much as I can—it's quiet."
Hockey? "Saw Brown at the inaugural Liberty Tournament
in Newark last year, which they won. One thing is for damn
sure, the game is so much faster that it scares me. Loved
those Providence Arena angled boards."
In view of the record, we'll take that "scares me" with several
grains of salt and wish Harry much success on his planned
new hike in Vietnam.
Portuguese Fado
Portuguese fado music, with its roots in the streets and waterfront of 19th century Lisbon, is characterized by mournful tunes and lyrics "infused with a sentiment of resignation, fatefulness and melancholy."
The word "fado" means "fate", signifying one's destiny, and
is seldom used in conversation. Fado music invokes the Portuguese word saudade, or longing, an overwhelming sense of loss, "a permanent irreparable loss and its conse-quent lifelong damage."
Amalia Rodrigues, Portugal's much beloved "Queen of Fado",
best exemplifies fado's traditional Lisbon style. She was a key
figure in the music's twentieth century revival, and her films,
recordings, and international performances popularized fado
music worldwide.
An Anarchist at the Dance
Dances held at Brown University in the 1950s drew, in addi-tion to a complement of Brown's own matriculated females, proper young ladies from surrounding New England colleges.
At one particular Campus Dance in 1957, Harry Batchelder recalls a student from Connecticut College for Women who had been watching him intently throughout the evening. Just as the last dance was about to be called, Julia Worthington Sawtelle, with whom Harry was acquainted, approached him and, beaming with satisfaction, announced, "Harry, I have finally figured you out. This note says it all."
Unfolding the small square of paper she pressed into his hand he read:
"Harry Batchelder. His cologne? Eclectic anarchism."